Jazz Guitar Secrets
What's the big deal about jazz?
Ever hit a brick wall when learning? Are you unsuccessful at jazz guitar since you started learning it? Or, are you experienced but stuck in a rut? This course is tailor-made for you!
This is the NEW EDITION with extended video segments.

Unlock your full potential and become a better jazz guitarist through these seven precise pieces of advice. They're all easy to follow and easy to understand: the videos in this program contain concise and to-the-point discussions on what generally hold players back from being successful jazzmen.
No metaphysics or philosophy here! This course answers "Why people fail?" with just the "real deal" and "real life" reasons in a straightforward approach. Watch, take notes and let your abilities soar. This is a re-release of the classic "tested and true" course that used to be hosted on JazzGuitarLessons.net now with BONUS extended video segment from Udemy.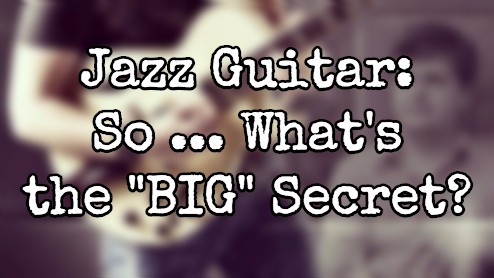 What's the "big deal" about jazz? Why this course?
You'll find a few *gems* of information you won't be able to get anywhere else. They're about the process of learning how to play jazz. This is *exclusive* content! Also note: this is a re-edition so 15 more minutes of video have been added here. Most of this material is NOT being discussed in videos and articles (available for free) on JazzGuitarLessons.net ... Shift your perspective, practice rhythms first, use your ears, the "idiom" of jazz, the "school" of jazz, and more!
This course is divided into seven short and digestible chunks of precious knowledge ... so you can watch them one at a time, or all at once. Rinse and repeat for better results.