WHAT THIS AWESOME E-BOOK HAS TO OFFER
The Jazz Guitar Improv Quickstart Guide contains everything you could want to know about learning and mastering jazz guitar improvisation. Seriously.
CH. 1: Understanding The Three Pillars
The pillars constitute the simplest and most complete paradigm to study and practice jazz improvisation.
CH. 2: Patience and Increments
Learn how to avoid the rabbit hole and "beat" your inner frustration.
CH. 3: Tips for Mastering Pillar One
Mastering jazz improv starts with the first step: playing 100% accurate notes while chords go by in a progression.
CH. 4: Learn from the Masters
How to study with the jazz legends of the past and present? Through their recorded footsteps!
CH. 5: Tips for Mastering Pillar Two
Raise up the heat an learn not only to play 100% accurate notes, but also to outline harmony perfectly at the point of chord change.
CH. 6: The Exercise that Changed my Life
Standards, you say? Let me tell you about a personal experience. And with one very big reminder...
CH. 7: Tips for Mastering Pillar Three
As you continue your journey to becoming an improviser, you must also learn to "speak" jazz in your solos!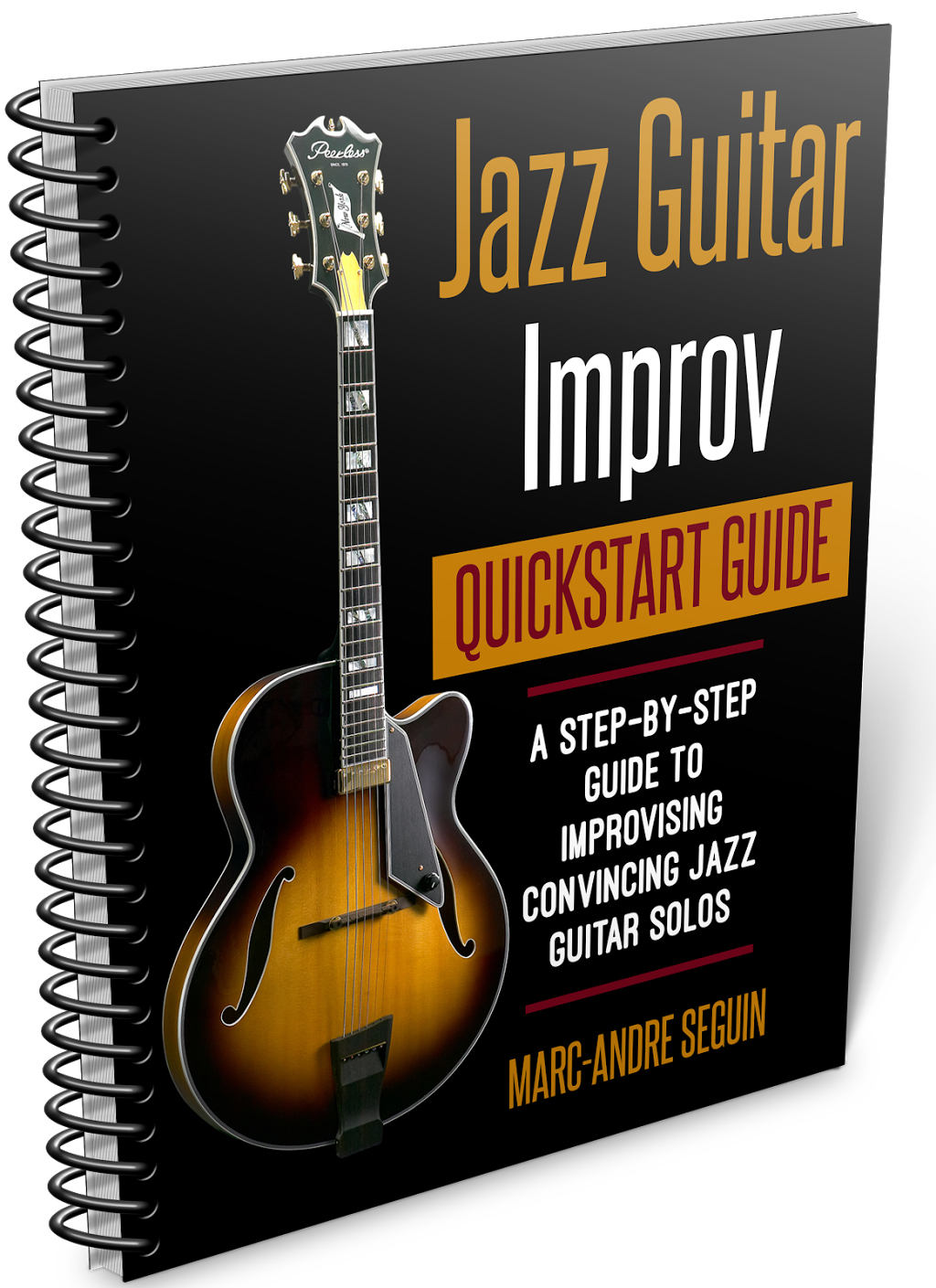 Learn the seven most efficient and pragmatic Golden Rules of mastering jazz improv, and become the best improviser you can be in no time.
Learning the fine craft of jazz improvisation can be done in small steps. For this purpose, we'll be using The Three Pillars of Improvisation to help you master jazz soloing and make sense of this puzzle.
Whether a beginner or intermediate jazz guitar player, this e-book will help you sort out improv in an organized manner. Too often, guitarists try to tackle too much theory at first and the results are disappointing. Download this e-book today and learn about the Three Pillars of Improvisation.

Sometimes you just need to break things down into manageable chunks to start making progress and avoid theory overload. This e-book will give you "the straight stuff" currently missing in your playing. If implemented into your practice, these ideas will take you to the next level.