WHAT THIS AWESOME E-BOOK HAS TO OFFER
You'll find The most important jazz guitar comping tips, made sure you can immediately apply these ideas to your own playing and practicing.
Chapter 1: Shell Voicings
Get started jazz guitar comping by learning Shell Voicings. These voicings are the basics of comping.
Chapter 2: Rhythm - Take One
Once you have the Shell Voicings under your fingers, you need to add some rhythm into the mix.
Chapter 3: Shells for II-V-I
Go a little deeper into chord progressions
Chapter 4: Rhythms - Take Two
The "Charleston" is an often-used rhythm in jazz and many other styles of music. Once you learn it, you'll probably begin to hear it every time you listen to music! Taking the Charleston rhythm and moving it around a bar of music can create a goldmine of rhythmic options
Chapter 5: Extending the Shells
As you get more comfortable with the basic Shell Voicings, you'll want add some more color.
Chapter 6: Rhythms - Take Three
Another solid rhythm you can add to your comping arsenal is the half note. A very accessible rhythm, the half note provides for a buffet of new ideas.
Chapter 7: "Minor" Considerations
When you are playing in minor keys, you can most certainly use the basic Shell Voicings you've learned.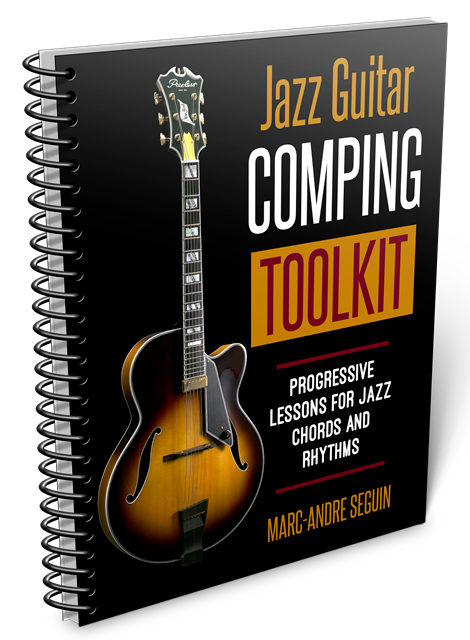 More than ever, guitarists are looking to jazz music for inspiration. Many of you are searching for ways to get started with or improve your jazz guitar comping. When you begin to learn jazz comping, there is a lot of information. It's a lot of work to filter out the best chords from those GIANT chord books (ie "Encyclopedia of 55,000 guitar chords") as you develop.
This Toolkit is designed to propel you in the right direction by covering the essentials of jazz chords in an easy-to-read format. If you want to get better, and if you're keen to start playing chords and comping like a jazz guitarist, then this eBook is for you.
What's the secret? Simplify!
Many beginner and intermediate players alike practice jazz chords like they're trying to memorize that entire GIANT chord book. Given the enormity of the task, results are often disappointing. What you need are simple building blocks of jazz harmony and comping. You'll soon start creating your own comping masterpieces. When you fully understand and integrate the content of this short eBook, I personally guarantee, your comping skills will soar.